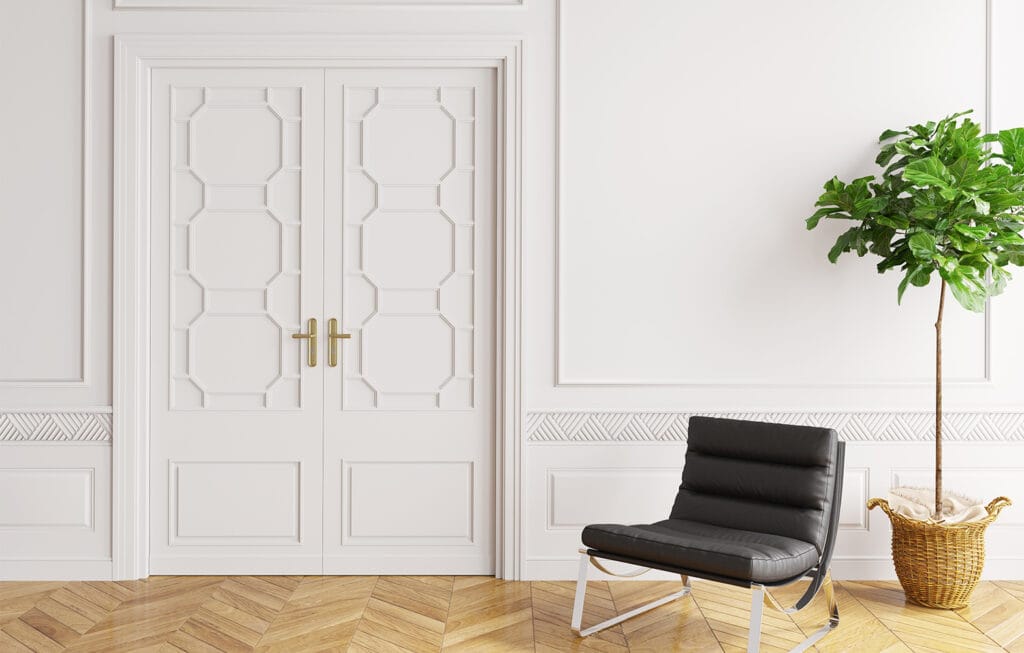 To keep your mouldings and woodwork in good condition, it is important to maintain and repair them from time to time.
In this article, we'll offer you advice on how to maintain and repair or restore your mouldings and woodwork efficiently. They will remain admirable and embellish your decor for a long time to come!
Maintenance
Used to decorate a room, mouldings and woodwork get dirty over time. Dust builds up on their surface, making them lose their lustre. Mouldings and woodwork are affected by cold and moisture.
The keep them in good condition, it is recommended to clean them several times yearly with dish soap and water. Start by cleaning with a sponge, then dry thoroughly with a used towel to avoid spotting.
It is important to keep your mouldings dry to prevent them from deteriorating due to humidity, their biggest enemy. Indeed, since mouldings and woodwork or trim are made of wood, a living breathing material, they are susceptible to moisture and can deteriorate and even rot, over time.
Tips
After mopping your floors, dry your mouldings and woodwork with a dry cloth to remove any water that accumulated during cleaning.
Be sure to ventilate your rooms well at all times to avoid any buildup of humidity on the mouldings and woodwork.
Storm window installation
In winter, since windows remain closed, it is advisable to install storm windows to prevent condensation from forming on moulding surfaces.
---
How to re-nail moulding
If you want to re-nail a moulding that no longer holds or has come loose, it is best to make a new hole and use another nail. Re-nailing a moulding with the same nail is ineffective.
With a nail of the same diameter, make a hole next to the existing nail, and then remove the old nail with vice-grip pliers (preferably from the rear). Then fill the hole with wood filler the same colour as the moulding.
Instead of nails, you can opt for finishing screws. They are smaller and hold better than traditional nails. Moreover, they don't bend.

Restoration advice
If you want to restore woodwork or repair a damaged moulding, follow these steps:
Strip the wood, i.e. remove nails, screws and varnish, and sand the woodwork with sandpaper.
If the mouldings are coated with paint or wax, use a paint stripper or wax remover.
Dust surfaces and fill nail holes with wood filler.
There, your woodwork is ready to be restored and coated with your choice of finishing product.
Of course, these are just a few tips to help you to maintain your mouldings and woodwork in good condition. For more specific advice on how to maintain and repair your mouldings, do not hesitate to contact our team.